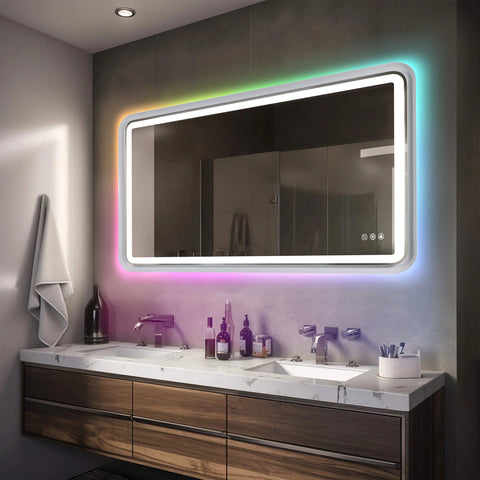 Our Mirage R11 Led Vanity Mirror is a masterpiece of innovative design that seamlessly combines style, quality, and functionality. Expertly crafted with meticulous attention to detail, this mirror elevates elegance and sophistication through its unique exterior and structural design. It exudes style and generosity, featuring captivating beveled metal frame elements and a suspended mirror visual effect that aligns seamlessly with contemporary aesthetics. Its dual WRGB Backlit + Front-Lit settings and fog-free surface provide ample lighting for makeup and shaving while offering the option to select from multiple colors and modes.Revel in this masterpiece of design and innovation.
Product Specification
Product Name: Mirage R11 LED Bathroom Mirror
Brands Name: ANDY STAR
Shape:  Rectangular
Style: Modern & Contemporary
Mirror Material: Shatter-Proof HD tempered glass
Framed Material: Rust-proof Aluminum Frame
Mounted Way: Horizontal & Vertical
Power Way: Plug In or Hardware
CRI :>90
Application Space: Bathroom, Living Room, Bedroom,  Dressing Room, Salon, Gallery,  Hotel or any other Interior Space.
Function :

3 Dimmable Front + Side Lights ;
3 Dynamic + 8 Static Dimmable WRGB Back Lights;
UL-Certified Defogging
Memory Setting Function 
Functional Features
A. Unique Beveled Metal Frame with Soft R-corner 
Explore the chic metal frame, merging texture with beauty. Its designer beveled metal frame exudes modern and fashion allure even when unlit. The R-corner curvature (glass and frame) softens the rectangle, which make it become a ideal for modern aesthetics. The beveled outer frame contours add unique style, creating a captivating suspended mirror visual effect.
B. New design of COB Front Lights + Side Lights
Utilizing cutting-edge COB technology and optical design, our mirror goes beyond the standard front-facing light bars found in the market. We've introduced angled side lighting to enhance your makeup experience, achieving a high color rendering index (CRI>90) that mimics natural ambient light.
Furthermore, we've separated the backlight and front light, ensuring a more natural and harmonious overall lighting display. Choose from three color temperatures: Cool White (6500k), Warm White/Natural Light (4200k), and Warm Yellow (2700k).
With adjustable brightness, our mirror breaks away from the conventional three-level brightness settings seen in regular lighted mirrors. Enjoy seamless stepless dimming control to cater to various applications and different lighting needs. Simply short-press to switch modes or turn off the supplementary lighting, and long-press to adjust brightness levels.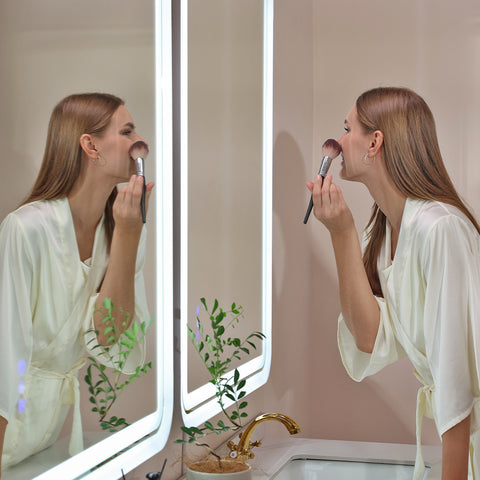 C. E

njoy 

33 Backlit Effects from 3 Dynamic Modes to 8 Static Modes
8 Static Modes: White - Rainbow - Red - Yellow - Green - Cyan - Blue - Purple
3 Dynamic Modes: Running Light - Water Flows(12 color switches) - Breathing (12 color switches)
Our LED Vanity Mirror is meticulously crafted to enhance any environment, elevating the ambiance to new heights. Its versatile lighting options, including 3 Dynamic Modes and 8 Static Modes, allow you to create the perfect atmosphere for any occasion. With adjustable brightness and a multitude of functional modes, it's ideal for transforming the mood and enhancing the aesthetics of your space, making it a stylish and functional choice for various settings.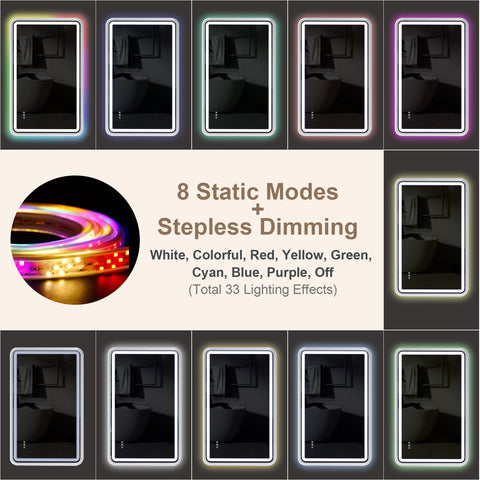 Immerse yourself in the atmospheric allure as you prepare for special moments or curate a distinctive ambiance in any space.
D. UL-Certified Defogging & Memory Function
Anti-Fog Function: Say goodbye to the hassle of post-shower mirror cleaning. Our LED vanity mirror boasts an efficient defogging film that covers over 25% of the mirror's surface area. Within just 3-5 minutes, it banishes fog, ensuring a consistently clear reflection. Plus, it turns off automatically after 1 hour of inactivity to reduced power consumption. Thanks to the UL-certified temperature control system, you'll experience reliable performance with reduced power consumption. No more wiping down the mirror; it's ready when you are.
Memory Function: Our Led Bathroom Mirror comes with a memory function that remembers your last settings for ease of use.
E. Premium LED Vanity Mirror: Lasting Quality, Innovative Design
Robust and Well-Engineered Structural Design
Our LED Vanity Mirror is a testament to thoughtful design. Its Integrated Back Panel and Frame Structure structure not only enhances aesthetics but also accelerates heat dissipation through the aluminum box, ensuring optimal performance and longevity. The rear hanging groove is strategically placed for improved weight-bearing capacity, while corner pads reduce friction, preserving both your wall and the mirror.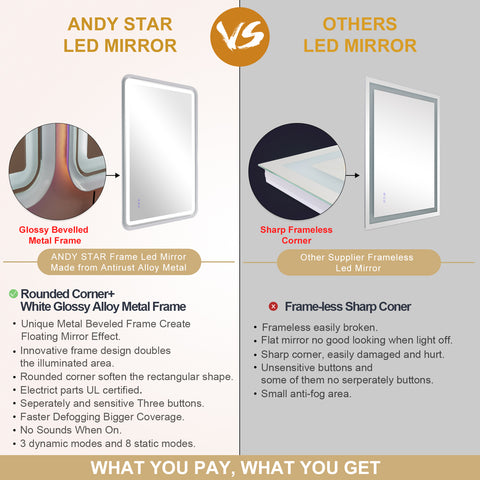 Its waterproof design and sturdy construction ensure durability even in moisture-prone environments. Additionally, the mirror's electrical box houses a built-in controller, fog removal, light, and an independent power module, extending the mirror's lifespan.
Premium Anti-Oxidation Metal Frame & High-Definition Mirror
Crafted with precision, our mirror features high-definition glass that guarantees a crystal-clear and distortion-free reflection. . It's not just a mirror; it's a reflection of lasting quality and innovative design.The external placement of the backlight strip, encased in silicone for waterproofing, adds an industrial, visually striking element to your space. Enjoy soft, evenly distributed lighting with an industrial flair that elevates your surroundings.
F. Versatile Application and Power Options
Easy Installation and User-Friendly Operation
Our LED bathroom mirror is designed for ease of installation and user-friendly operation. Included with the mirror is a comprehensive instruction manual, providing clear and concise installation guidelines. With a straightforward and logical user interface, it's a breeze to operate.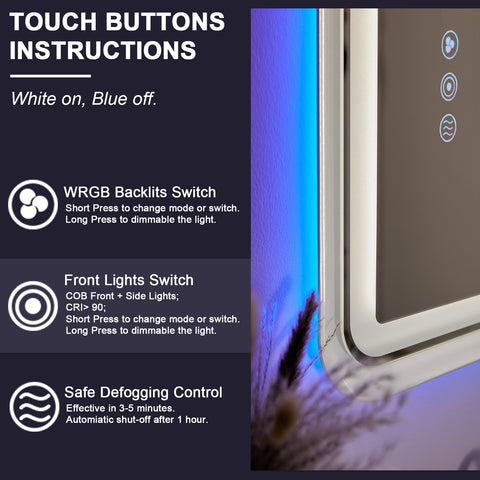 Installing the mirror is a hassle-free task. Thanks to the included aluminum strips, you won't need to hire a professional; anyone can do it with ease.
Two Convenient Hanging Options
Choose the hanging style that suits your space best. Our mirror offers two versatile hanging options – vertical and horizontal. The mirror is equipped with two sturdy wall brackets on the back, ensuring secure and flexible mounting in your preferred orientation.

Perfect for Various Applications
With its adaptable design and elegant aesthetics, our LED bathroom mirror is suitable for a wide range of applications. Whether it's enhancing your bathroom, bedroom, salon, gallery, or hotel space, this mirror's versatility shines through. Its user-friendly installation process allows you to effortlessly transform any environment.
Quick Start Guide: Operating Instructions for Our LED Vanity Mirror
LED Vanity Mirrors Showdown: Our Mirror vs. the Competition