Product Information
Brands: MOON MIRROR
Type: Wall Mirrors
Shape: Rectangular
Framed Material: Iron Framed with Anti-Oxidation Coating Finished
Backboard Material: 9mm TSCA-certified MDF Backboard
Mirror Material: 4mm HD GLASS
Frame Thickness: 1 inch
Mounted Way: 

D-ring Mounted for both Horizontal & Vertical
Item Weight:
20"x28"  -   13.6 lbs; 22"x30"  -   16.6 lbs;
24"x36"  -   22.0 lbs; 36"x30"  -   25.6 lbs;
40"x24"  -   25.6 lbs; 40"x30"  -   31.3 lbs; 
More Product Details
Make a statement with this stunning yet minimalist wall mirror. Its modern profile and rounded edges give it a sleek, contemporary look that's perfect for any room in your home. Hang it vertically or horizontally to suit your space and use it to add light, hide imperfections, or showcase your favorite accents. Its iron frame and minimal design make it a timeless piece that will never go out of style. Whether you hang it in your entryway, hallway, or bathroom, this metal rectangle mirror will impress.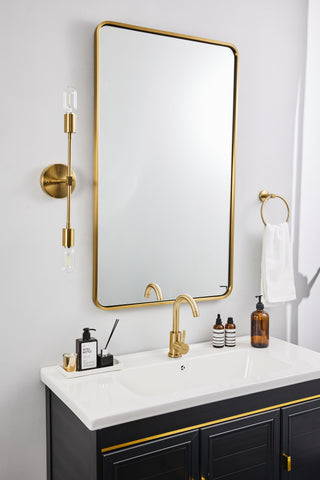 Features:
4 pre-installed reinforced D-ring hangers on the back allows for horizontal or vertical installation.

90% 4mm Silver Glass+ 100% 1 Inch Metal Frame+ 9mm MDF Backboard

Produced with a premium metal frame to be rustproof. The plate glass mirror floats in the frame surrounded by a thin 1/17" gap with a rounded corner design. 

Each black vanity mirror lends exceptional strength to resist humidity and can stay unchanged over time. 

 

 

 

About the Colors