Brushed Nickel Rectangle Pivot Mirrors with Stainless Steel Frame
Shipping calculated at checkout.
Product Information
Brands:

  MOON MIRROR

Type:

 

Wall Mirrors
Shape:

  Rectangle

Framed Material: SUS 304 Stainless Steel
Backboard Material:

 

9mm TSCA-certified MDF Backboard
Mirror Material:

 

4mm HD GLASS
Frame Thickness:

 

1 inch
Mount way:

 

Adjustable bracket
Finish Type:  Brushed Nickel
Item Weight:
Size 

 Overall Dimension

(Includes pivot grommets)

Weight
20"W x 28"H

23.75" x 28"

16.2lbs

20"W x 30"H

23.75" x 30"
16.8 lbs
22"W x 30"H
25.75" x 30"

18.7

 lbs

22"W x 34"H

25.75" x 34"

19.5 lbs

24"W x 36"H

27.75" x 36"

23.8 lbs

25"W x 38"H

28.75" x 38"

25.6 lbs

30"W x 22"H
33.75" x 22"

1

8.7

 lbs

36"W x 24"H
39.75" x 24"

20.9

 lbs
More Product Details
Featuring a sleek look and functional details, our brushed nickel metal frame pivot mirror has a straightforward style that's incredibly everlasting. Our classic brushed nickel bathroom mirror is now available in a tilting angled design. A sturdy stainless steel wall bracket lets you adjust the angle of the brushed nickel rectangle mirror based on your preference and height.
Premium Quality Material
The best products start with the best materials. We insist to source premium materials like high-end quality stainless steel frames, 4MM HD glass, and MDF backboard for our pivot bathroom mirrors. 
Adjustable Tilt Angle
Our included premium quality stainless steel pivoting brackets can be tightened or adjusted at your desired angle with the screws on the bottom of the hardware, which is extremely easy to fit at any height and any person.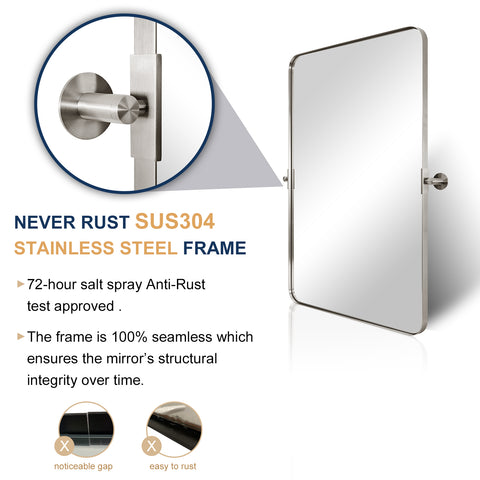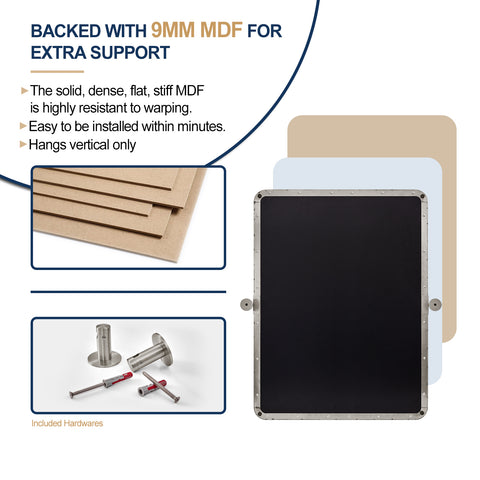 With upgraded pivoting brackets, you will simply use a screw to install the mirror.
For all-in-one convenience, all mounting hardware(2 brackets, screws,2 anchors ) and a detailed template for installation are included.
Note: 1. Professional installation is recommended If this is the first time you use the electric drill. 2. Pivots vertically 3.Mounting hardware included.
Various Sizes and Colors
A black frame goes well with everything. If you're into brighter, airier spaces, go with an all-white bathroom and incorporate small infusions of black. The frame on the mirror is enough to make this vanity pop when hanging on the light bathroom wall.
Brushed Gold Framed Pivot Mirror
Amazingly versatile, our gold frame mirrors are popular in modern, traditional, and maximalist designs. With a gorgeous gold border, this round corner mirror is love at mirror balances out simple, tasteful styling with a throw, and pops off the white walls for a scene-stealing burst of warmth and shine.
Confusing about picking up the right size or color?