Collectible Like New ANDY STAR® Contemporary Bathroom Vanity Mirror Rounded Rectangle Mirror Metal Framed Wall Mirror
Shipping calculated at checkout.
Please note that: Collectible items cannot be returned or exchanged. The status of it is collectible- like new. Someone received and sent it back to our warehouse without opening the box.
| | |
| --- | --- |
| Brand | ANDY STAR |
| Frame Material | Stainless Steel |
| Frame Thickness | 1'' |
| Finish Type | Matte Black/Brushed Gold/Brushed Nickel/Brushed Bronze |
| Mounting Type | Wall Mount |
| Size | 16''x20''/20''x28''/22''x30''/24''x36''/24x24" |

This everlasting metal rectangle rounded corner mirror matches any room and any decor perfectly. This mirror conforms to the modern decoration style and can be matched with any scene which looks much elegant in the bathroom. Adding a mirror-like this above a double sink for his or hers is a great way to give you and anyone else room to primp and prepare.

Add light and enhance the beauty of any room in your home instantly! Enhance the appeal of your home with this modern mirror, featuring a thin rounded metal edges in a deep profile, reflecting a minimalist's design and trendy styling. It is suitable for any style of space design, greatly improves the visual interest of your home.
Crystal Clear Reflection
Upgraded 4MM HD polished mirror is presenting a beautiful reflection without any distortion of visual, adds light, and enhances the beauty of any room in your home instantly.
STURDY STRUCTURE
To ensure your home safety, we used four metal hanger rings that are securely welded to the back of the metal frame, which sit on top of the frame for easy hanging. Simple design & compact frame & strong backboard endow the mirror anti-water, shockproof, more stable & longer working life.
PREMIUM MATERIAL
2mm thick fingerprint-proof stainless steel frame+upgraded no-distortion 4MM HD mirror to deliver clear reflection+TSCA certified backboard, same level material for Five Star Hotel.
FINE CRAFT
20 years production experience with more than 50 steps processing of a finished mirror ensure surface evenly coloured, smooth, corrosion-resistant, anti-fingerprint & prevent scratching.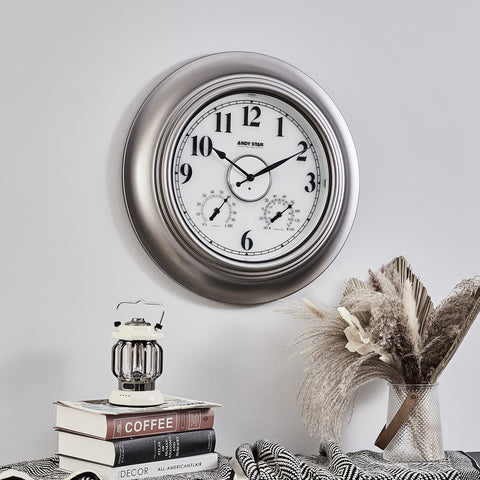 What's Your Favorite Color?

A black frame goes well with everything. If you're into brighter, airier spaces, go with an all-white bathroom and incorporate small infusions of black. The frame on the mirror is enough to make this vanity pop when hung on the light bathroom wall.

Click to View More Bathroom Decor Ideas
Consider a sleek and intimate black bathroom with our silver and nickel frames which complement lots of hardware and provide a pop of brightness on walls. Hanging the silver ones on the bathroom wall can create an elegant space that not only feels elevated but can also make a small bathroom feel wider and more spacious.
Click to View More Bathroom Decor Ideas
Amazingly versatile, our gold frame mirrors are popular in modern, traditional and maximalist designs. With a gorgeous gold border, this round corner mirror is love at mirror balances out simple, tasteful styling with a throw, pops off the white walls for a scene-stealing burst of warmth and shine.
Click to View More Bathroom Decor Ideas
Bronze is neither a grey nor a brown—and that's exactly the colour that is such a rich and versatile neutral, both warm and cool palettes.  Bronze is a comforting colour, drawing from nature for a feeling of relaxation and serenity.
Confusing about picking up the right size or colour?