Moon Mirror
Early Bird Benefit Pack: Only $1 to Get $30 Coupon for Mirage R11 Beveled Metal Framed Led Vanity Mirrors
Shipping calculated at checkout.
Welcome to Moon Mirror's exclusive early bird benefit pack for the Mirage R11 Beveled Metal Framed LED Vanity Mirror. We are excited to offer you an amazing deal where you can get a $30 coupon for just $1. Here's how to make the most of this fantastic offer:
Event Duration
Selling Period for Benefit Pack: Until October 15th. Please keep an eye on your email for precise start and end date notifications from us!

Event Benefits
Unlock a $30 discount on Mirage R11 Mirrors with just a $1 deposit. You can combine this discount code with our ongoing product promotions.
Event Usage
This discount is exclusively valid for the Mirage R11 Mirror during the pre-sale period.
Each customer can use the discount code once, and it cannot be transferred.
Expect to receive an email confirmation of your benefit pack order within 24 hours.
Limited to the first 30 customers - Grab this huge discount while it lasts!
How to Participate
Purchase the benefit package at this link. Select the Early Bird Benefit Pack and proceed to checkout.

Within 48 hours of the closing date, we'll email you a unique discount code.

Once you've purchased the Early Bird Benefit Pack, you'll receive an email containing a discount code and a link to the Mirage R11 Mirror pre-sale. Apply the code during the pre-sale checkout for an instant $30 discount.

Then, sit back and eagerly anticipate the arrival of our exquisite MIRAGE Series Beveled Metal Framed RGB Led Vanity Mirrors.
For any questions or assistance, don't hesitate to reach out to our dedicated customer support team. Happy shopping!
Product eligible for this benefit package:
Mirage R11 Beveled Metal Framed Led Vanity Mirrors Floating Illuminated Mirrors Round Corner Rectangular Lighted Mirror - Anti-Fog and Dual WRGB Backlit + Front-Lit (Horizontal/Vertical)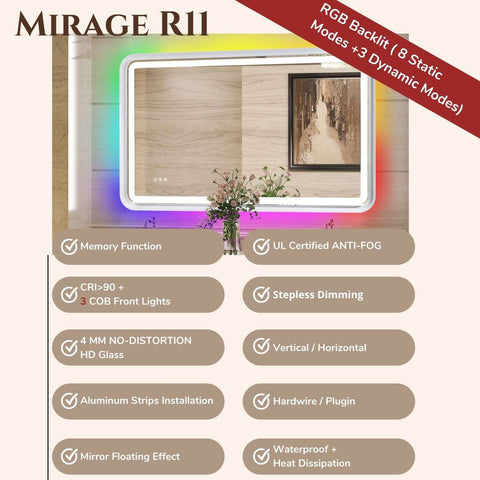 More Details about the product:
Type:

 

Wall Mirrors, 

Bathroom, Bedding Room, Living Room, Modern

Shape:

  Rectangular

Mirror Material:

 

Shatter-proof

 HD glass
Mounted Way: 

 Horizontal & Vertical

Power Way: Plug In or Hardware
CRI: 90
Function:  3 Dynamic Modes + 8 Static Modes; Stepless Dimming; Anti-Fog; ETL Listed (Front Lights + Backlit) ; Memory; RGB Backlit Vanity Mirror; UL-Certified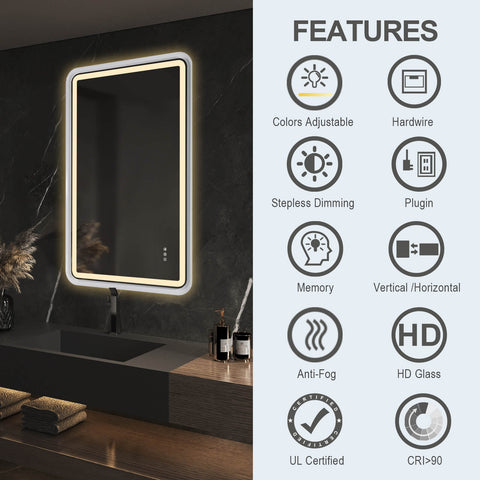 33 RGB

 Effects from Dynamic to Static
Experience 33 effects, including 8 static modes (White, Colorful, Red, Yellow, Green, Cyan, Blue, Purple, Off) and 3 dynamic modes (Running Lights, Water Flow, Breathing). Easily adjust brightness with Stepless Dimming and customize the atmosphere with multiple RGB modes.
3 Temperature Colors 

COB Frontlit
Our LED bathroom mirror features advanced COB lights with three color temperature options: cool white (6500K), natural white (4200K), and warm yellow (2700K), and Stepless Dimming controls, allowing you to create the perfect ambiance for flawless makeup application and precise shaving.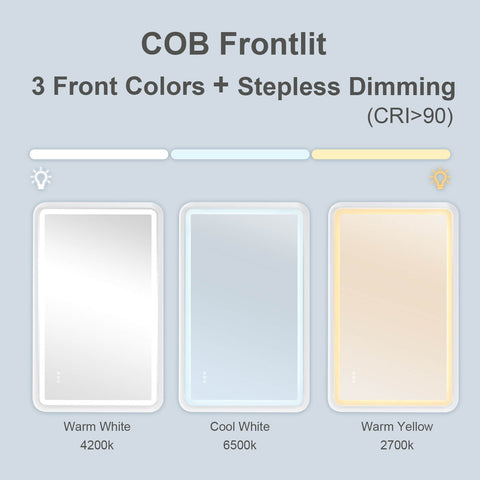 UL-Certified 

Defogging Function
This fog-resistant illuminated bathroom mirror utilizes a defogging film that covers over 25% of its surface area, eliminating fog within 1-2 minutes for a consistently clear reflection. With a UL-certified temperature control system, enjoy reliable performance with reduced power consumption.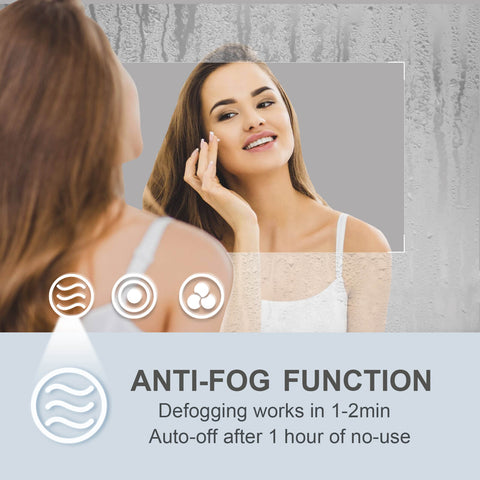 Stepless Dimming Button Design
LED bathroom mirrors have three touch buttons for backlighting, defogging, and front lights, making them easy to operate. Adjust the brightness levels of the backlit and front lighting by long-pressing the light button with Stepless Dimming. Easily switch between different lighting modes with a short press. The buttons display blue when closed and white when turned on.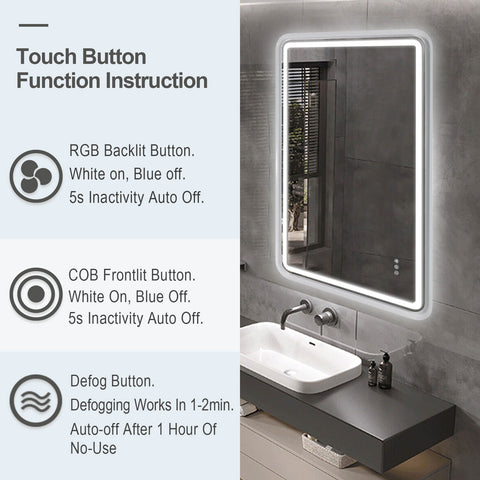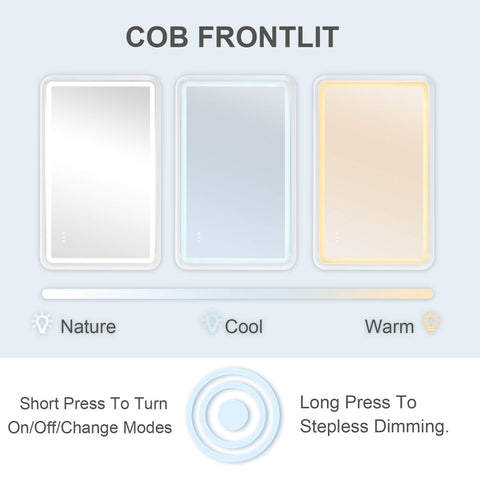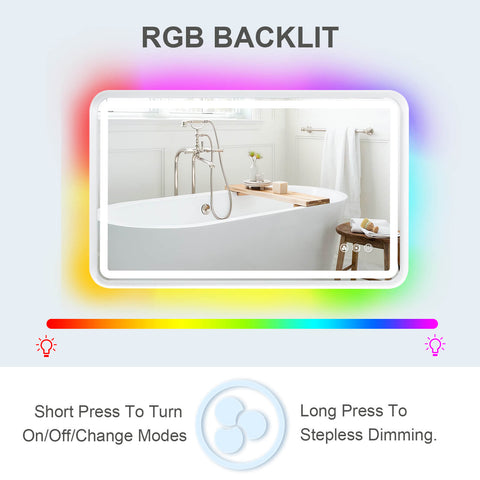 Sleek Designer Visual Outlook
Our LED bathroom mirrors feature a sleek metal frame with a modern design. The R-corner shape adds a soft touch and the mirror floating effect enhances its presence. The mirrors also use advanced COB technology to provide optimal lighting without any dark corners.
Long-lasting Structure & Flawless Reflections
Our lighted bathroom mirrors have a waterproof silicone-coated back strip with an open-back design for better performance and longer lifespan. They can be hung horizontally/vertically and equipped with corner pads for protection against bumps or scratches.
Furthermore, our bathroom mirrors feature high-quality HD glass, guaranteeing flawless reflections and clarity. The durable aluminum frame with an anti-oxidant coating prevents corrosion, maintaining long-lasting beauty. Its sturdy construction ensures durability even in humid bathroom environments.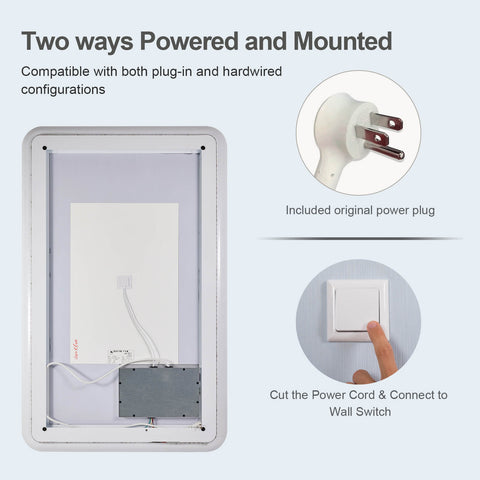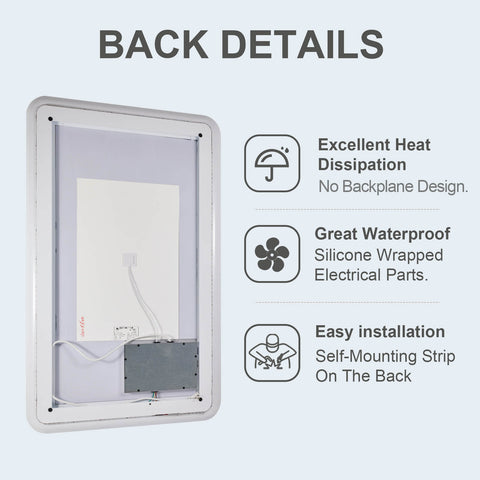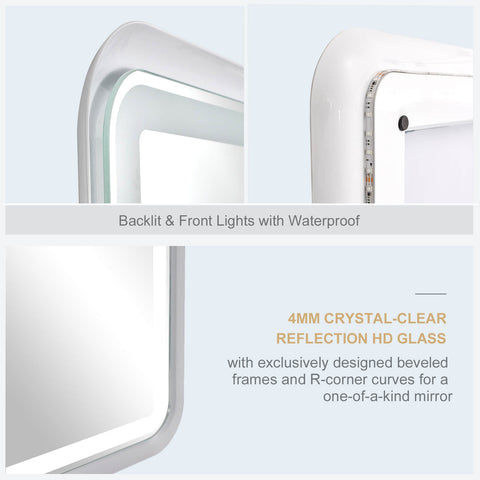 Easily Installation for Versatile Application
The LED bathroom mirror comes in a range of sizes and colors to match various styles and spaces in bathrooms, bedrooms, salons, galleries, or hotels. Installing the mirror is easy - fasten the aluminum strips and place the mirror carefully without using any special tools or expertise.