Moon Mirror
MIRROTREND RGB LED Bathroom Mirror with lights Frameless Rectangular Mirror, Anti-Fog, Dimmable RGB Backlit + Front Lighted
Shipping calculated at checkout.
Product information
Brand: MIRROTREND
Type:

 

Wall Mirrors, 

Bathroom, Bedding Room, Living Room, Modern

Shape:

  Rectangular

Backboard Material:

 

 TSCA-certified MDF Backboard
Mirror Material:

Shatter-Proof

 HD tempered glass
Mounted Way: 

 Horizontal & Vertical

Power Way: Plug In or Hardware
CRI: 90
Function:  Dimmable; Anti-Fog; ETL Listed (Front Lights + Backlit) ;Memory ; RGB Backlit Vanity Mirror
More Product Details
Add some color to your daily routine with our Modern and Smart RGB LED bathroom mirror. With extra bright LED beads, this backlit mirror features a frameless design that won't rust or corrode. With its anti-corrosion technology, this mirror will stay as good as new for years to come. The backlit mirror is a stylish and functional addition to any bathroom, providing ample lighting for makeup application and shaving while offering the option to select from multiple colors and modes to set the perfect ambiance.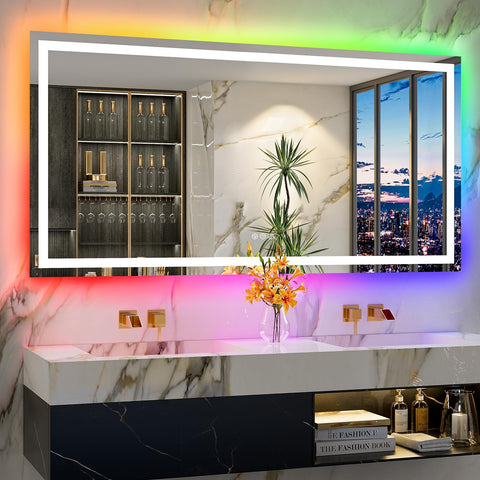 1. 8 Backlit Colors + 3 Front Colors
8 Backlit Colors: cold light, white light, warm light, colorful, pink, red, green, blue
3 Front Lights: Cold light, White light, Warm light
With 8 backlit colors and 3 front colors,  The front and back lights are operated separately with a screen touch button and can be dimmed for your convenience. This mirror is not just a functional piece, but also a decoration for your bathroom with its RGB mode. The double lights provide enough brightness for makeup application and shaving, and the backlight can also be set to just white. Choose from 8 different backlight modes and 3 front-light modes. The frameless design is both modern and anti-corrosive, making it a luxurious addition to any bathroom.
2. Dimmable & Multiple Light Modes
Experience the convenience of a hi-tech smart mirror with easy touch operation. Adjust the light brightness and switch between various light modes with a simple tap on the smart touch switch. With both front and back lighting, this LED bathroom mirror is double-lighted and provides brighter illumination than traditional mirrors.
3. Tempered Glass, Shatter-Proof, Sturdy and Durable
This LED bathroom mirror is designed with
5MM
tempered glass
that is shatter-proof and explosion-proof, making it safe to use. It is also built to last, with high-definition glass for clear and
non-distorted
reflection,
waterproof
design, and sturdy construction. The package for shipping is well-designed with all-around protective Styrofoam that has passed the drop test, so you don't have to worry about breakage during delivery. The mirror is not only functional but also adds a touch of modern elegance to any bathroom. With its multiple light modes and easy-to-use smart touch switch, this mirror is a perfect addition to any modern bathroom.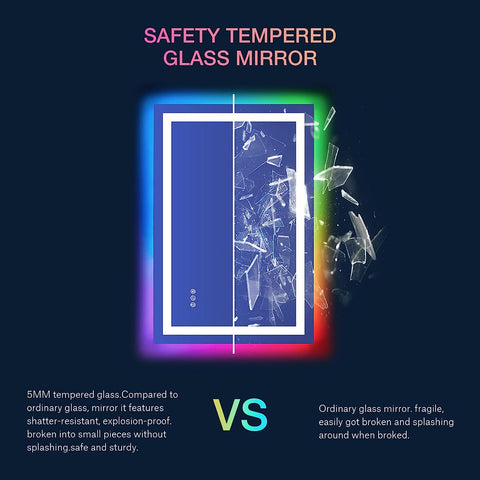 4. Anti-Fog & Memory Function
The 
LED vanity mirror features an anti-fog function that eliminates the need for wiping down the mirror after a shower. With a defog film attached to the back of the mirror, it heats up to prevent fog from forming, ensuring a clear and crisp image, even in the steamiest of bathrooms. The defogger will turn off automatically after one hour, and the mirror also comes with a memory function that remembers your last settings, making it super convenient for daily use. Enjoy a crystal-clear reflection every time with this innovative and practical mirror.
5. Two Ways to Power and Mount
Our LED bathroom mirror can be powered either by plugging it in or hardwiring it. If hardwiring, it is recommended to seek the assistance of a professional electrician. The mirror is designed with two sturdy wall brackets on the back for easy and secure mounting. It can be hung
vertically or horizontally
and is easy to clean, making it a convenient and versatile addition to any bathroom. All mounting hardware needed for installation is included with the mirror.