Moon Mirror
Modern Pill Shaped Pivot Mirrors Swivel Tilting Bathroom Vanity Capsule Mirrors Hangs Vertical
Shipping calculated at checkout.
Product Information
Brands:

  Moon Mirror

Type:

 

Wall Mirrors, 

Contemporary&Modern

Shape:

  Pill Shaped / Capsule Shaped

Framed Material: SUS 304 Stainless Steel
Backboard Material:

 

9mm TSCA-certified MDF Backboard
Mirror Material:

 

4mm HD GLASS
Frame Thickness:

 

1 inch
Mount way:

 

Adjustable bracket
Finish Type:  Matte Black, Brushed Nickel
Item Weight:
Size 

 Overall Dimension

(Includes pivot grommets)

Weight

20"W x 33"H

24.33" x 33"

16.8 lbs

24"W x 36"H

28.33" x 36"

20.5

 lbs
More Product Details
 Our pill shape pivoting mirrors collection features a premium stainless steel frame in a variety of colors and finishes. These pivot mirrors are designed to fit seamlessly into any bathroom aesthetic and can be adjusted up and down to find the perfect angle. Our modern Pivot mirrors not only adds a decorative touch to your walls but also help to brighten and open up the space.
Practical and Beautiful Design
This pill-shaped mirror features an elegant silhouette and is framed in stainless steel metal with electro-plated finishes for bathroom safety. The beautifully crafted design adds value to any room.
Plated Adjustable Wall Brackets
This pill-shaped tilt vanity mirror features adjustable wall brackets made of premium quality metal with a plated finish for durability and rust resistance. The brackets can be tightened or adjusted to your desired angle using the screws on the bottom of the hardware, making it easy to fit for any height and use. The durable and safe design ensures that the mirror will not loosen, slip, or rust like some cheaper brands may.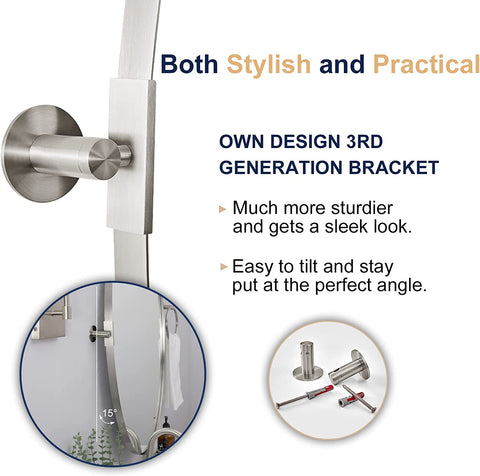 Premium Quality Material
Our pivot bathroom mirrors are made with premium quality materials including high-end stainless steel frames, 4MM HD glass, and study MDF backboard. We believe that using the best materials leads to the best products.
Free Hardware Replacement
If the hardware for this mirror arrives missing, defective, or damaged, customers are eligible for a free replacement. Our 100% happy warranty ensures your satisfaction with the product.

Various Sizes and Colors
Our pivot mirrors are available in four electro-plated finishes: matte black, brushed gold, brushed nickel, and polished chrome. The range of colors allows you to choose the one that best fits your style. Multiple sizes are also available for your convenience.
About Colors 
Confusing about picking up the right size or color?