Moon Mirror
Open Box Like New : Aluminium Frame Rounded Rectangle Mirrors
Shipping calculated at checkout.
    Our metal frame round rectangle mirrors feature a sleek and stylish design that will elevate the look of any bathroom or vanity. The combination of clean lines and smooth curves creates a modern aesthetic that will impress your guests.
    The round rectangle shape is perfect for those who want the best of both worlds. The rectangular shape provides a classic look, while the rounded edges soften the overall design. These mirrors are available in a range of sizes to suit any space.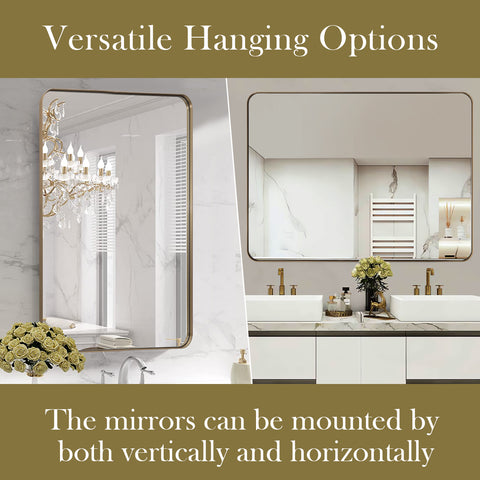 PRODUCT SPECIFICATIONS
| | |
| --- | --- |
| Room Type | Bathroom,Bedding Room,Living Room |
| Shape | Rectangle |
| Finished Type | Matte Black, Brushed Bronze, Brushed Nickel |
| Surface Material | 4mm high reflection silver glass |
| Backboard Material | 9mm TSCA-certified Backboard |
| Framed Material | Anti-Rust Finished Metal Framed |
| Mounted ways | Hangs both ways - Vertical or Horizontal! |
DETAILS YOU'LL APPRECIATE

      Our vintage metal tube frame Round Rectangle Mirror is expertly crafted with a unique metal tube design, adding a touch of industrial style to any bathroom.
      The recessed 4mm no-distortion HD mirror floats in the metal frame surrounded by a thin 1/17" gap, showcasing the intricate metalwork. It also features a 9mm thick TSCA-certified anti-corrosion backboard to strengthen the glass for safety, ensuring that this mirror is not only beautiful but also durable.
Versatile Hanging Options:
     The mirrors can be hung both vertically and horizontally, making them versatile and easy to fit into any space. They are easy to install and come with all the necessary hardware for hassle-free mounting.
      Our mirror is constructed from high-quality materials, including a non-rusting frame finish, ensuring that it will last for years to come even in a damp bathroom environment.
Easy to Install and Safe Package:
      Our mirror is easy to install and comes with all the necessary hardware. It is also shipped in a safe package to ensure that it arrives in perfect condition.