MOONMIRROR
ANDY STAR® Full Length Mirror Small Long Mirror Full Body Mirror Matte Black Wall-mounted/Leaning Mirror
Shipping calculated at checkout.
Product information
Brands:

 

ANDY STAR
Type:

 

Wall Mirrors, 

Bathroom, Bedding Room, Living Room

Shape:

  Rectangle

Framed Material:

  SUS 304 Stainless Steel

Backboard Material:

 

9mm TSCA-certified MDF Backboard
Mirror Material:

 

4mm HD GLASS
Frame Thickness:

 

1 inch
Mounted Way: 

D-ring Mounted for both Horizontal & Vertical
Finish Type:  Matte Black
Item Weight:  
18" x 48'' - 24.3 lbs; 22" x 60'' - 36.9 lbs; 
More Product Details
This full-length mirror features a rounded corner silhouette and ultra-thin frame, complements all your home decor, and brings your room style and elegance.
This modern black mirror gives you a head-to-toe glimpse of yourself while also making your whole space appear larger. The sleek mirror is a little more than 4 feet tall, so it's the perfect size for mounting on your wall or leaning on it. Hang it in a spot that feels a little sparse, or make it the focal point of a gallery wall. Because the mirror's silhouette is clean and graphic, it'll fit seamlessly into just about any space.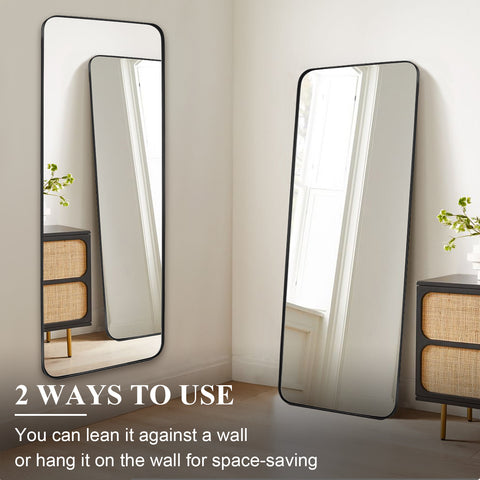 Crystal Clear Reflection
Upgraded 4MM HD polished mirror is presenting a beautiful reflection without any distortion of visual, adds light, and enhances the beauty of any room in your home instantly.
Sturdy Structure
To ensure your home safety, we used four metal hanger rings that are securely welded to the back of the metal frame, which sit on top of the frame for easy hanging. Simple design & compact frame & strong backboard endow the matte black full-length floor mirror with anti-water, shockproof, more stable & longer working life.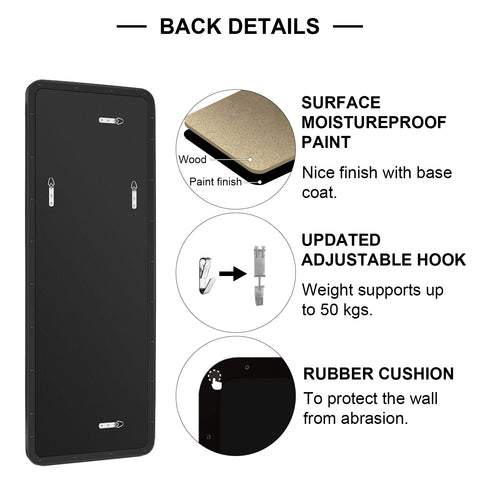 Other Color Options
Gold Frame Full-length Mirror Ideas
Amazingly versatile, our gold frame full-length mirror is popular in modern, traditional, and maximalist designs. With a gorgeous gold border, this round corner full-length mirror is love at full-length mirror balances out simple, tasteful styling with a throw, and pops off the white walls for a scene-stealing burst of warmth and shine.