Moon Mirror
Polished Black Metal Framed Arched Mirror Archtop Bathroom/Vanity Mirrors
Shipping calculated at checkout.
Product Information
Brands:

  MOON MIRROR

Type:

 

Wall Mirrors
Shape:

 Arch

Framed Material:

  Anti-Rust Metal Frame

Backboard Material:

 

9mm TSCA-certified MDF Backboard
Mirror Material:

 

4mm HD GLASS
Frame Thickness:

 

1 inch
Mounted Way:  

D-Ring Mounted Vertically
Finish Type:  Polished Black
Item Size:
20"W x 30"H; 24"W x 36"H;
26"W x 38"H; 
More Product Details
Elevate your space with our stunning modern arched mirror. Framed with sleek polished metal that exudes the elegance of glass ceramics, this arch wall mirror is a true statement piece. Its unique texture and glossy black finish enhance its visual appeal, creating a luxurious atmosphere in any room. With easy installation, a corrosion-resistant design, high-definition clarity, and a stable structure, this mirror embodies the essence of modern sophistication.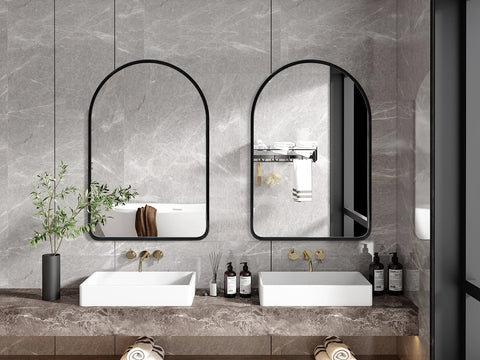 Seamless Complement for Your Bathroom
Classical arch wall mirror with unique smooth frames surface like glass-ceramic.Enhance the beauty of your bathroom with our ideal mirror choice that seamlessly complements your tile walls. This high-end mirror not only boasts exceptional quality but also harmonizes perfectly with your ceramic tiles. Its unique texture and thoughtfully designed frame elevate the luxury and sophistication of your bathroom, leaving a lasting impression on anyone who enters.
Exquisite Texture and Design
Experience the refined texture and exquisite design of our mirror. The sleek metal frame, reminiscent of glass ceramics, adds a touch of elegance to your space. Its glossy black finish adds a sophisticated touch, making it a focal point in your room's decor. Every detail of this mirror is meticulously crafted to ensure it enhances the overall luxury and aesthetic appeal of your bathroom.
 Unparalleled Quality and Durability
Our mirror is built to last, boasting unparalleled quality and durability. With its corrosion-resistant design, it remains pristine even in high-moisture bathroom environments. The high-definition clarity of the mirror glass ensures a crystal-clear reflection, enhancing your grooming routine. The stable structure guarantees its longevity, providing you with a reliable and long-lasting addition to your bathroom.
Effortless Installation, Convenient Enjoyment
Equipped with two pre-installed reinforced D-rings and accompanied by all necessary hardware and clear installation instructions, our mirror can be easily installed. Each arched mirror is meticulously packaged to ensure safe delivery and arrives in perfect condition. In the unlikely event of missing installation components, simply contact us, and we will promptly provide replacements for a hassle-free installation experience.