Product information
Brands:

 MOON MIRROR

Type:

 

Wall Mirrors, 

Bathroom, Bedding Room, Living Room

Shape:

  Arch

Framed Material: Anti-Oxidation Iron Framed
Backboard Material:

 

9mm TSCA-certified MDF Backboard
Mirror Material:

 

4mm HD GLASS
Frame Thickness:

 

1 inch
Mounted Way: Wall

 Mounted for Vertical
Finish Type:  Matte Black, Brushed Bronze, Brushed Nickel
Item Weight:

20"x30" - 16.1 lbs; 24"x36" - 21.9 lbs;
26"x38" - 22.7 lbs;
More Product Details
Our Antique Arch Mirror is framed by a metal tube for a unique vintage and antique style that will add character to any space. The intricate metalwork and arch shape create a stunning statement piece that will impress your guests. This arch wall mirror is not just a beautiful addition to your decor, but also a functional piece that adds depth and light to your space.
Details You'll Appreciate

      Our vintage metal tube frame arch mirror is expertly crafted with a unique metal tube design, adding a touch of industrial style to any bathroom.

      The metal tube design is expertly crafted to showcase the beauty of the mirror, with a thin 1/17" gap that surrounds the recessed 4mm no-distortion HD mirror. The mirror is backed by a 9mm thick TSCA-certified anti-corrosion backboard to ensure its strength and durability.
      Our mirror is constructed from high-quality materials, including a non-rusting frame finish, ensuring that it will last for years to come even in a damp bathroom environment.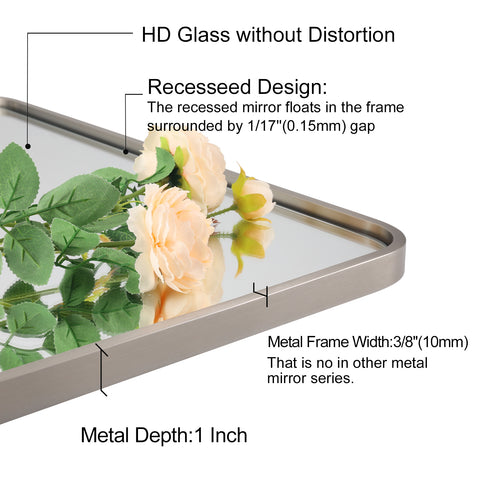 Easy to Install and Safe Package:
      Enjoy the easy installation process. Our mirror is easy to install and comes with all the necessary hardware. It is also shipped in a safe package to ensure that it arrives in perfect condition.