Contemporary Rounded Rectangle Mirror for Bathroom/Vanity / Wall | Stainless Steel Frame
Shipping calculated at checkout.
Product information
Brands: MOON MIRROR
Framed Material: Anti-Rust Stainless Steel 
Backboard Material: 9 MM thick backboard
Mirror Material: 4MM HD GLASS
Frame Thickness: 1 inch
Mounted Way: 

D-ring Mounted for both Horizontal & Vertical
Finish Type: Matte Black, Brushed Nickel, Brushed Gold, Brushed Bronze, Polished Chrome
Item Weight:
20"x28"  -   15.9 lbs; 22"x30"  -   16.1 lbs;
24"x36"  -   23.6 lbs; 24"x24"  -   16.0 lbs;
30"x36"  -   28.2 lbs; 40"x30"  -   32.5 lbs;
48"x30"  -   39.2 lbs; 48"x36"  -   47.5 lbs;
60"x22"  -   36.9 lbs; 60"x30"  -   54.2 lbs;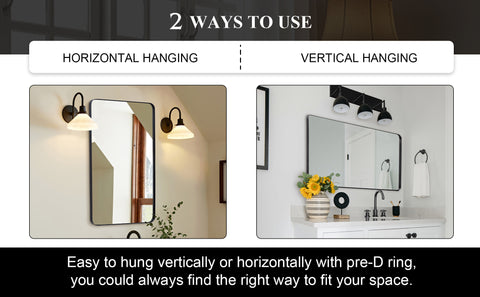 More Product Details
Experience sophistication in your modern bathroom with this sleek vanity mirror. Boasting a durable stainless steel frame and a unique rounded rectangle shape, it effortlessly adds a touch of elegance to your décor. Hang it either horizontally or vertically and enjoy hassle-free cleaning and maintenance due to its easy-to-clean design. Indulge in the luxury of this mirror and elevate your bathroom to the next level.
Add a stylish and modern touch to your bathroom with this contemporary bathroom vanity mirror. Its stainless steel frame and rounded rectangle shape give it a unique look that will complement any décor. Hang it either horizontally or vertically and enjoy the ease of cleaning and maintaining it. Purchase yours today and enjoy a sophisticated accent in your bathroom.
Premium Materials
2mm thick fingerprint-proof stainless steel frame+upgraded no-distortion 4MM HD mirror to deliver clear reflection+TSCA certified backboard, same level material for Five Star Hotel.
Crystal Clear Reflection
The upgraded 4MM HD polished mirror is presenting a beautiful reflection without any distortion of vision. Safety backing strengthens the glass surface making it less susceptible to breakages. The Reflective glass is a brilliant choice for home walls because of its clean look.
Sturdy Structure
To ensure your home safety, we used four metal hanger rings that are securely welded to the back of the metal frame, which sit on top of the frame for easy hanging. Simple design & compact rim & strong backboard endow the mirror with anti-water, shockproof, more stable & longer working life.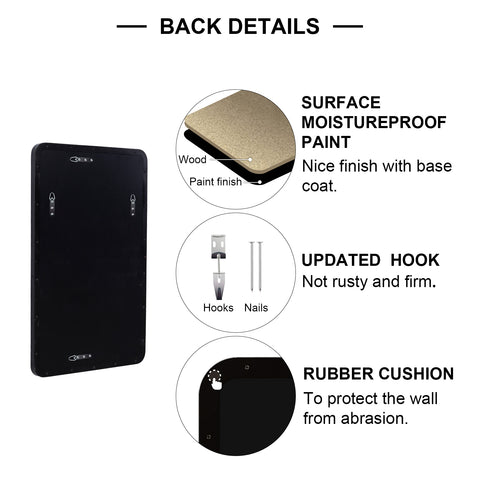 About the Colors