Measure& Pick the Right Size& Color
Size& Color Guide of Bathroom Mirrors- Please Read before Purchasing
It's quite important for all of us to pick up the right size and color mirrors to save the trouble of returning and restocking and accelerate the whole process of renovation. Here is the guide of picking the right size and color.
Pick up the Right Size
First up, decide where you want the mirror and measure the height and width of the open space, staying clear of lamps, shelves, windows, and existing furniture. Here are four simple rules of thumb for bathrooms:
Fine-tuning to fit you How much do you want to see in the mirror? That's one more thing to think about when you're choosing the right size. Depending how tall you are and how far back you can stand in the room, you might want to size up a bit to see more of your reflection.
For Single Sinks, the mirror should be 2-8 inches wider than the sink.  
For Double Sinks, do please leave some space between two mirrors.
Please remember to leave a few inches between the bottom of the mirror and the back-splash or counter to avoid water damage.
Pick up the Right Mirror Frame Color
White Vanity To Match
Consider that white is neutral, meaning that it is absent of any actual color. It is also warm in temperature. This means your white vanity is highly reflective, and will highlight any color that is not white. That would draw a serious amount of attention to your mirror's frame, which isn't always ideal. In this condition, please match the mirror frame color with the scone or the water tap.
Gray, And Black matches gold For Cool Contrast
Gray and black are neutrals, just like white. So, they are just as pliable, but they are also much cooler in temperature. This is an effective way to make a bold statement without throwing off the entire room.
You can use a warm color frame in this circumstance to balance the coldness of gray and black.
For those who like the moody cool color bathroom, you can also maintain the characteristic by picking up the brushed silver frame mirrors.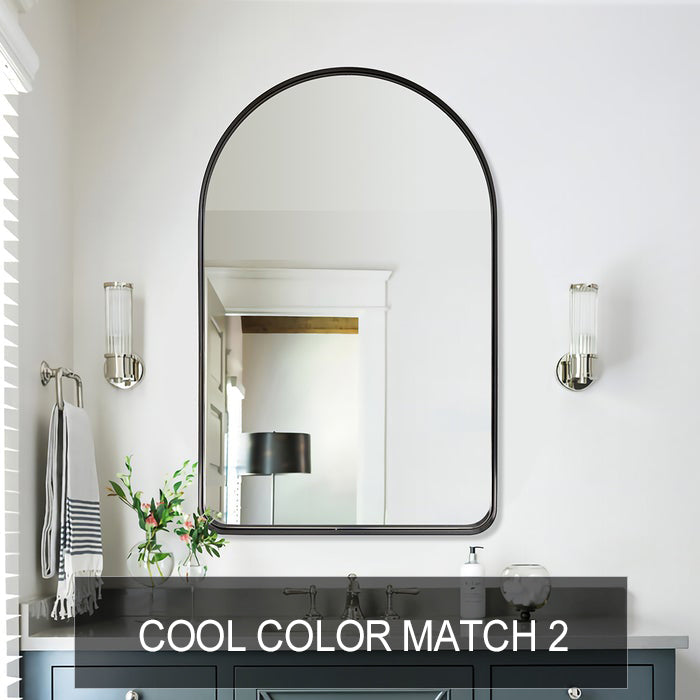 Brown Or Natural Earth Tones
Wooden frames are available in a variety of styles and stains. You can even find wood with gray tones, which are useful for beach house interior designs. But most wood will have a natural brown foundation.
And fortunately, brown is a "near neutral", which means it can work with nearly as many colors as pure neutrals. But it still appears to have something of a cooler orange tone. This makes brown a great way to bridge the white vanity's brightness with the rest of the room.
Also, since many vanities are made from wood to begin with, there is a smooth connection to any brown mirror frame. It won't be a bad idea to match them with some plants to build the natural sense.
Testing, 1, 2, 3...
To really get a feel for how your mirror will look and if it's the right size, test it out first.
Grab some scissors, masking tape, and anything you've got that'll work as a decent placeholder: string, newspaper, wrapping paper, or even a few sheets of paper towel will work.
Cut your materials to the size of mirror you're considering, and tape it to the wall.
Look good? Place your order! Not quite right? Try another size until you're satisfied.
Still have questions, or want us to do the math? We're always here to answer your questions and help pick the perfect size. Please contact us: support@moonmirror.co or call us at 513-716-5579
9 comments
MY28WYeYo3kxLMzYhsh0YkidrhjFFebcx7tcuxvJ5vJlYZnwCcqddhWwFLHT8n3JRTGdi3w6o72miI6q3BfNyrLQMKhSggSH8
mWsPhyaWSVcLVcnY
June 03, 2023
] Ujoyowuko tzz.xdyl.moonmirror.co.kdt.vq http://slkjfdf.net/
anikagawimu
April 21, 2023
🔄 Забрать https://forms.yandex.ru/cloud/63d0eedc43f74f582866fd40/?hs=1d1fa464620b2056e030f00f6133a062& 🔄
February 02, 2023
] Exhivo tli.yrdu.moonmirror.co.pkj.bz http://slkjfdf.net/
ilfenosunim
February 01, 2023
] Otiman jez.cduc.moonmirror.co.hhr.ky http://slkjfdf.net/
omoqoxab
February 01, 2023
Can the mirror be hung horizontally? In the picture on the site, it appears to be so.
When I received the mirror, the tilting brackets were on the longer side of the mirror. I wondered if they (the tilting brackets) can be switched so the mirror can be hung horizontally
Thanks!
Can this mirror be hung horizontally? It shows it in the picture, but not on how to install it.
I received the mirror and they feel attached so it can be hung vertically.
Without taking off all of the wrapping, I wanted to ask this in case I need to return the mirror.
Can the pivot brackets be moved to to short side of the mirror to be able to have a vertical pivot instead of a horizontal pivot?
For the modern tilting pivot bathroom mirror, what is the outside dimension from the two tilting brackets for an overall dimension.
Thank you,
Laree
262-395-7101
or text 608-712-4011
Laree ALLEN
March 02, 2022
Leave a comment