35 Minimalist Bathroom Ideas to Simplify Your Life
While less isn't always more, when it comes to bathrooms, you're typically better off going for clear counters, minimal tchotchkes, and an overall clean and organized vibe. But that doesn't mean you have to chase after modern or Scandinavian-inspired design and forego your own style and flair. Minimalist style can be as bold—or as understated—as you are. Check out these minimalist bathroom ideas for inspiration on how to create a streamlined space that works for your lifestyle and appeals to your sense of style.
1. Use Mixed Metals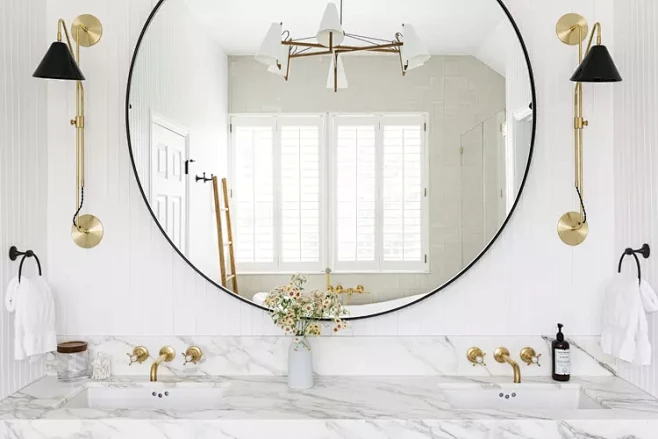 According to Kathy Kuo, Interior Designer and CEO of Kathy Kuo Home, one of the quickest ways to elevate your bathroom while keeping it minimal is to upgrade focal points—like plumbing or lighting. "These details are easy to update and make all the difference with completing and elevating any room. To incorporate a subtle flair, I love to work in mixed metals and mirrored finishes."
02. Use Simple Lighting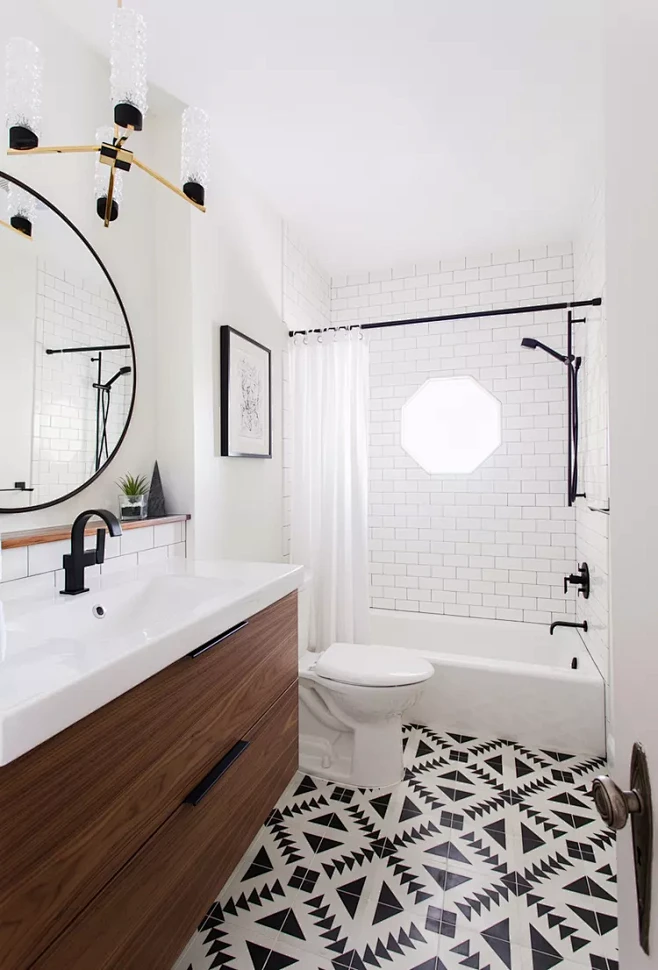 Because bathrooms are often filled with mirrors, it is important to choose the right lighting to maintain a sophisticated and serene vibe. "A simple statement pendant light with delicate sconces by the vanity are perfect choices from both a design and functionality perspective," explains Kuo.
03. Square Off the Sink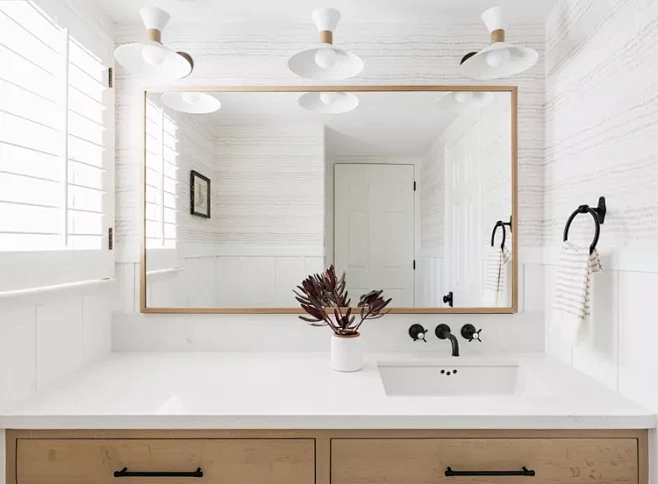 Andra DelMonico, lead interior designer at Trendey, suggests creating a minimalist look with a pure white squared-off sink. The straight lines and sharp 90-degree corners will give your bathroom a modern yet simplistic feel. "For smaller bathrooms, a compact square sink will work best so that it doesn't eliminate too much counter space," shares DelMonico. "Larger bathrooms can look great with a rectangular sink, giving you more sink space."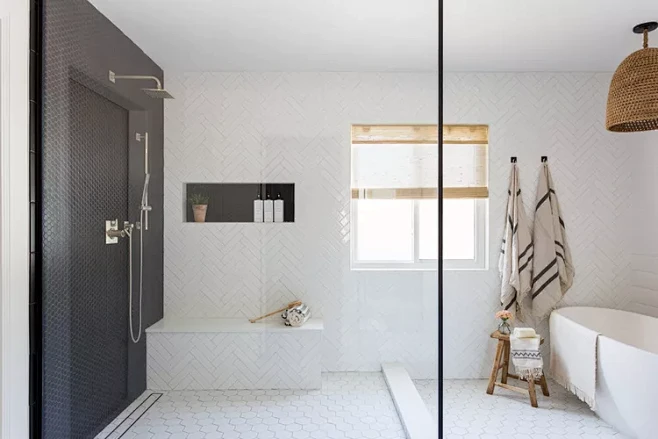 Eliminate clutter by removing shower curtains and using glass enclosures. For the most minimal shower, DelMonico suggests opting for a wet room where there's no enclosure around the shower at all. However, this can be too cold for some people and can be addressed by installing a frameless glass panel, which DelMonico says will trap the water and heat without blocking light and flow.
05. Incorporate Natural Elements
Sometimes minimalism can feel cold and sparse. Bring warmth and a spa-like feel to your minimalist bathroom by incorporating natural elements like wood. "Choose a wood that's beautiful and durable enough for the bathroom," says DelMonico. "Teak, bamboo, or hardwoods are all smart options. You could use the wood to create a simple plank shower floor, a floating vanity, cabinets, accent wall, or flooring for the entire bathroom."
06. Install a Medicine Cabinet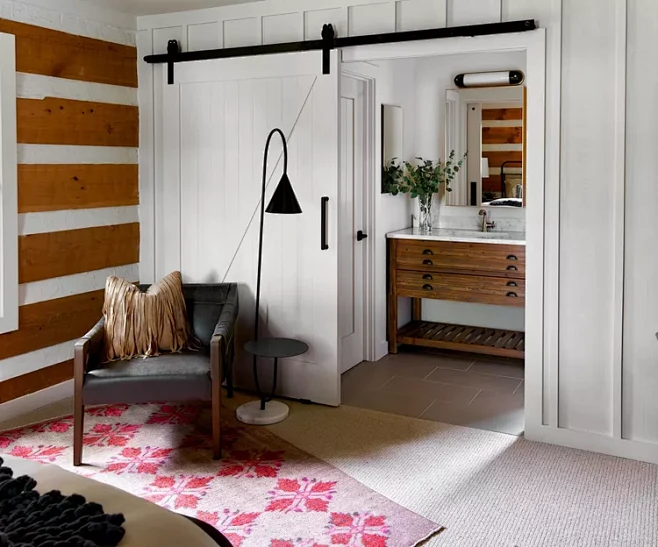 Medicine cabinets are an obvious choice to help create a minimalist bathroom. "If you're just looking to declutter, you can simply replace an existing mirror with a wall-mounted medicine cabinet," says interior designer Katie Burnet of Rumor Designs.
07. Add Hotel-inspired Extras
Going minimal is typically very good for the budget—which allows for a little extra room for luxurious accessories that will help give your bathroom edge without cluttering the space too much. Look to apothecary-style bottles to give that luxurious, hotel-inspired finish to your counter tops.
8. Transport to the Eighties
"For tackling a minimalist bathroom, I love the idea of being influenced by the 80s," says Jennifer Burt, Mississippi home staging expert at Mississippi Maximalism. "Set the tone with a simple gold chrome mirror in an oval or interesting organic shape. For the rest of the bathroom, keep texture to minimum. Colored tile is an option to add interest."
9. Use Matching Linens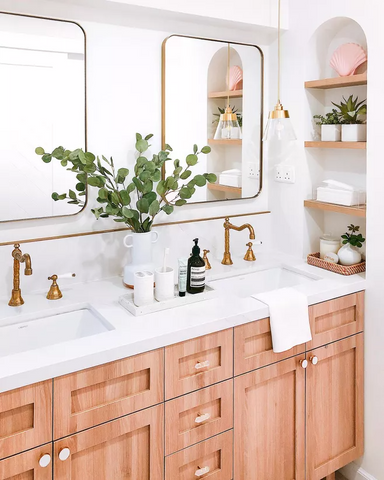 Kirsten Fisher, founder & CEO of Imagine Home Organization, suggests taking the time to assess your towel situation. Any old or ratty towels will make your bathroom look sad—particularly if you're leaning toward a minimal theme. Consider investing in a new set of fluffy white "hotel towels" or stick to all one color for a uniform, tidy look.
10. Choose Easy-to-Clean Surfaces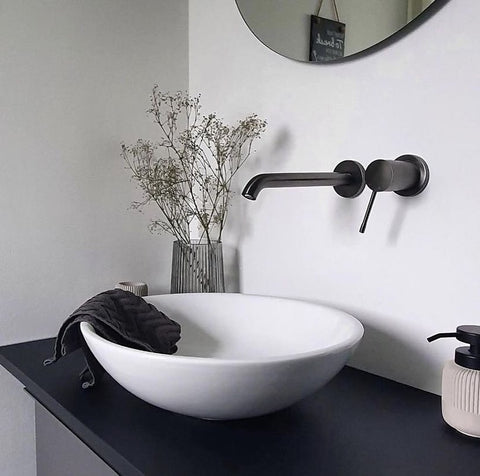 Think about choosing durable finishes to ensure that you can keep your
minimalist bathroom
looking spick and span. According to Atlanta-based interior designer Beth Halpern Brown, this includes quartzite, quartz, stone, and ceramic tiles rather than marble—which requires serious upkeep.
11. Opt for Shower Seating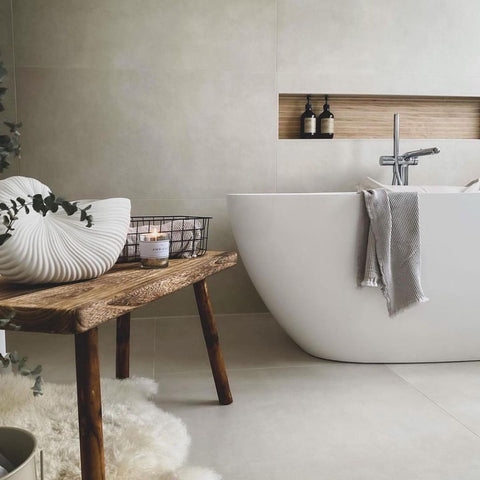 A smart-looking wooden stool will not only add an aesthetically pleasing element to your open shower, but also comes as a pretty decent consolation prize if you're working with a bathroom that doesn't have a tub. Consider opting for white oak or teak, which will be able to withstand humidity and water.
12. Go Green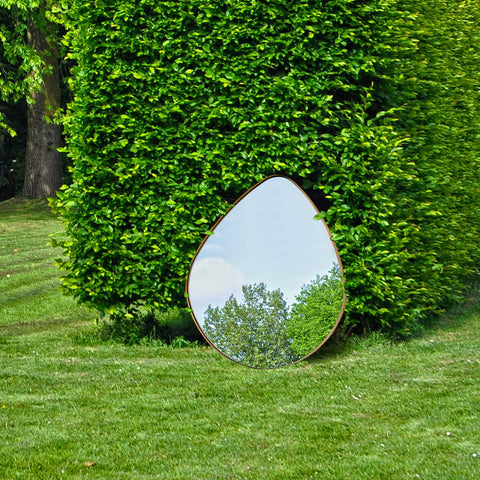 Whether you've gone ultra minimal in terms of accessories and visual interest or you're sticking to a neutral colorway, adding a couple of bathroom-friendly plants will help to break up the monochromatic aesthetic while also purifying the air in the process. A snake plant is a smart option if you're working with minimal light; otherwise consider opting for a fern or a spider plant.
13. Limit Your Palette
Stick to a limited palette and a handful of materials to create a minimalist feel in your bathroom. Large windows and glass doors to the walk-in double shower and bath area keep this minimalist bathroom from Cathie Hong Interiors focused on the view and the light. Concrete-effect tiles on the walls and floor add a cohesive look, while black plumbing fixtures add an industrial edge that matches the window frames.
14. Focus on a Single Color
This minimalist bathroom from Laura Brophy Interiors skips wall tile for a textured finish in an all-over warm and soothing shade of medium gray that is complemented with shiny gold-toned plumbing fixtures.
15. Float the Sink
The Home Consultant added a wall-to-wall polished concrete floating vanity that adds industrial flair in this compact minimalist bathroom. Countertops are kept mostly bare and toiletries are stored in a mirrored medicine cabinet above the vanity for a clutter-free look.
16. Keep It Light
Shades of beige and white keep this minimalist bathroom from Cathie Hong Interiors feeling serene and light. Floor-to-ceiling tile in the walk-in shower and a slightly different tile in a similar shade on the shower floor are complemented with glass doors to minimize visual clutter and gold-toned fixtures to add warmth.
17. Make It Monochrome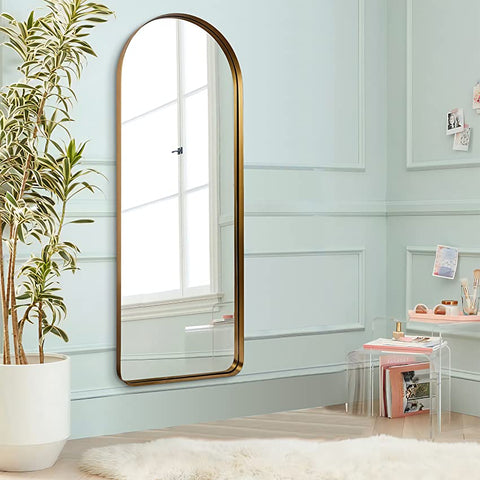 This all-white bathroom from Living with Lolo has cool-toned silver plumbing fixtures and a mix of slab tiles on the walls and bench and hexagonal tiles on the floor and ceiling that add subtle pattern and variation to the monochromatic look.
18. Add Some Greenery
This small bathroom from Becca Interiors has a minimalist black-and-white palette, geometric floor tiles, an industrial space-saving wall-mounted sink, and some planters above the toilet that add a stylized natural element that doubles as decor.
19. Use Warm Tones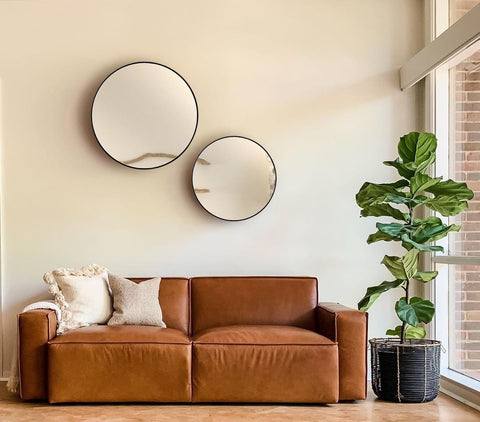 This Spanish island en suite bathroom from Fantastic Frank has rustic warm-toned natural finishes, soft neutral colors, black accents, and an interior window over the sink that looks onto the primary bedroom and allows natural light to flow through.
20. Play With Pattern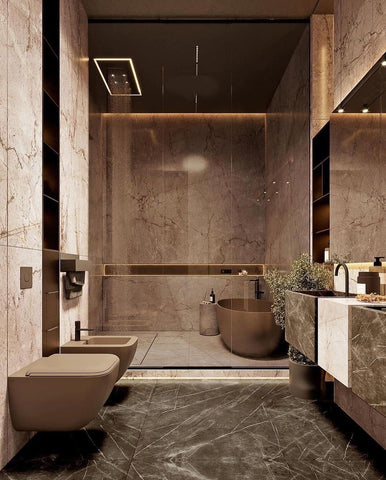 A modern minimalist bathroom doesn't have to forego color or pattern. This little powder room from Desiree Burns Interiors has a minimalist palette of white, black, and antique gold. A patterned black-and-white tile floor adds some personality while staying within the minimalist color palette.
21. Maximize Natural Light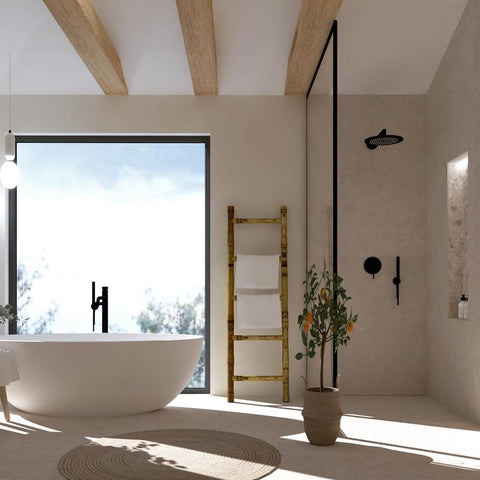 The Home Consultant added a wet room-style shower with a soaking tub and doors that lead out to a private patio in this primary en suite bathroom in Los Angeles. The glass doors flood the airy space with light, and soft gold plumbing fixtures add warmth.
22. Add Farmhouse Vibes
This bathroom designed by NORD for Living Architecture is tucked under the eaves and lit by a skylight, a minimalist black-and-white space with cozy white painted shiplap walls, a garden tub, and a farmhouse sink to match the English countryside setting.
23. Light It Well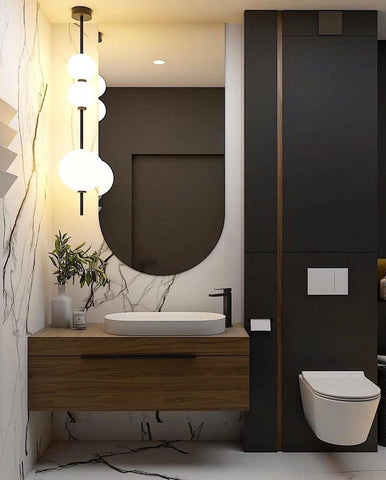 In this minimalist bathroom from Tidal Interiors, LED backlighting adds a glamorous touch to a sleek built-in wall-to-wall shower niche. The ambient light creates a soothing glow for nighttime showers and adds another layer of lighting in a space lacking in natural light.
24. Make It Moody
This moody minimalist bathroom designed by Laura Brophy Interiors includes dark gray textured wall and floor tiles with a nearly invisible shower, silver-toned plumbing fixtures, and a large soaking tub and small wooden stool for some zen spa vibes.
25. Play With Shape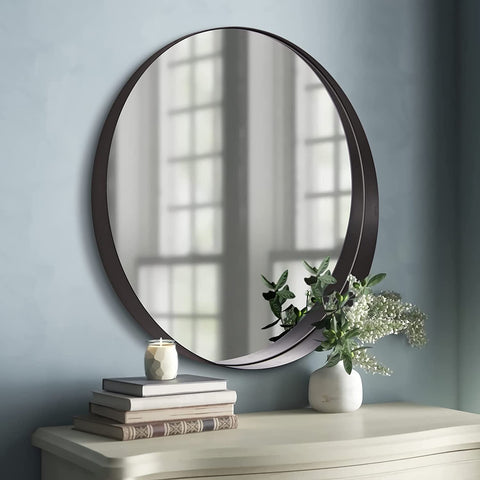 One way to add interest to a minimalist space is to make a point to incorporate a range of shapes that will make a spare space feel more dynamic. Michelle Berwick Design outfitted this minimalist bathroom with a mix of black, white, and wood finishes. Small hexagonal tiles on the wall and floor, a wood vanity with clean lines, and a round mirror and sink add some geometry to the mix.
26. Add a Vase of Greenery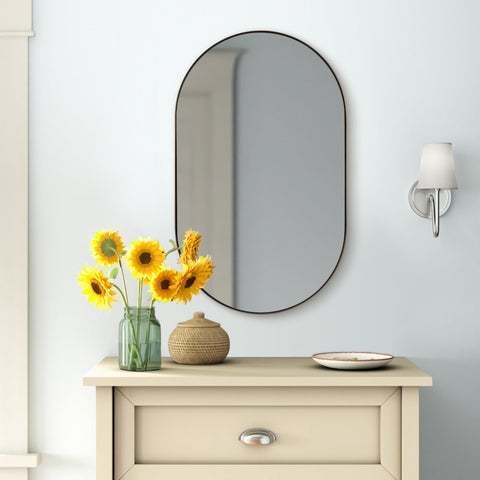 The smallest gesture makes a big impact in a minimalist space. Laura Brophy Interiors added a vase of greenery to the shower bench in this minimalist bathroom that lifts the gray, white, and black tones and echoes the leafy view from the window.
27. Focus on a Hero Piece
Resist the urge to fill every inch of space if you're going for a minimalist look. Michelle Berwick Design focused on a hero piece—a garden tub floating in front of a large window—and kept the rest of the room simple.
28. Vary Textures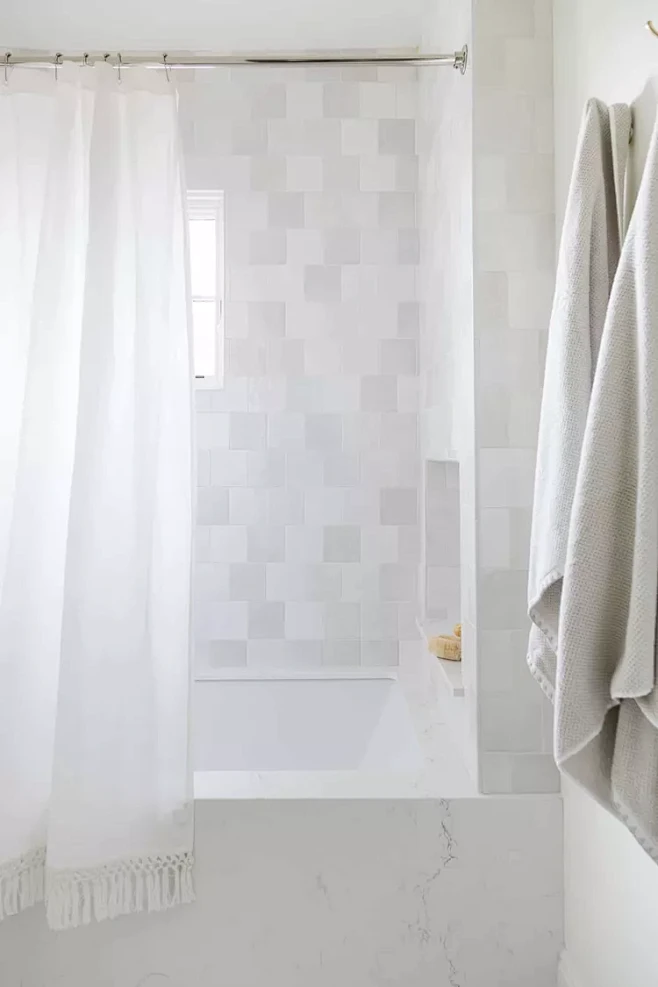 Mindy Gayer Design Co. created a minimalist monochromatic bathroom that mixes shades and textures of white, from the square shower tiles to the marble-effect quartz bathtub surround to the shower curtain and towels.
29. Go With Monochrome Grays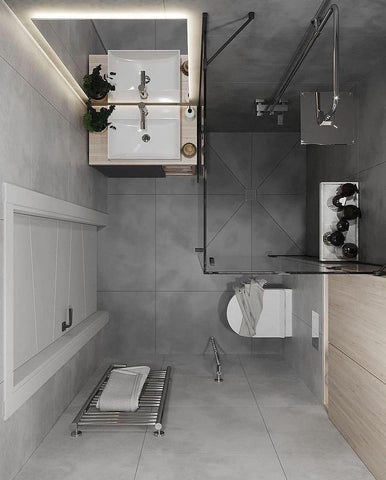 This all-gray bathroom from Tyler Karu Design and Interiors has a minimalist all-gray monochromatic feel with plenty of texture thanks to a mix of shades on the shower wall and floor tiles, silver-toned plumbing fixtures, and striped Turkish towels hanging on the wall.
30. Maximize Sightline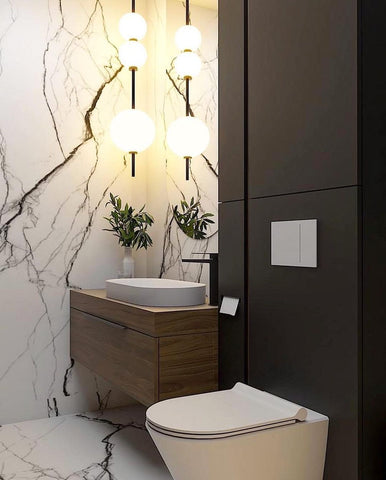 A minimalist design allows you to focus on natural light and views. This spacious minimalist en suite primary bathroom from Laura Brophy Interiors has clean lines and a cased opening to the bedroom that maximizes sightlines to the ocean views beyond while allowing natural light to flow through the spaces.
31. Keep It Warm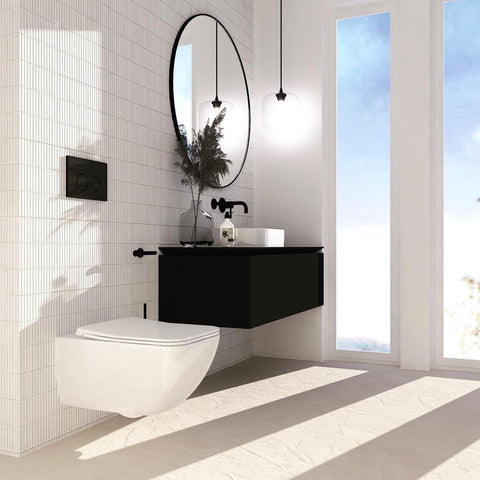 Minimalist doesn't have to mean stark or cutting edge. This spacious bathroom from Desiree Burns Interiors has a warm and traditional feel but uses minimal elements to create a minimalist, spa-like feel, with double wood vanities, gold accents, and a window seat beneath the large arched picture window to the outdoors.
To fit a comfortable walk-in shower and a soaking tub into a relatively compact space, The Home Consultant used a minimalist all-white palette, silver-toned plumbing fixtures, and a space-saving wet room layout.
33. Hang a Photo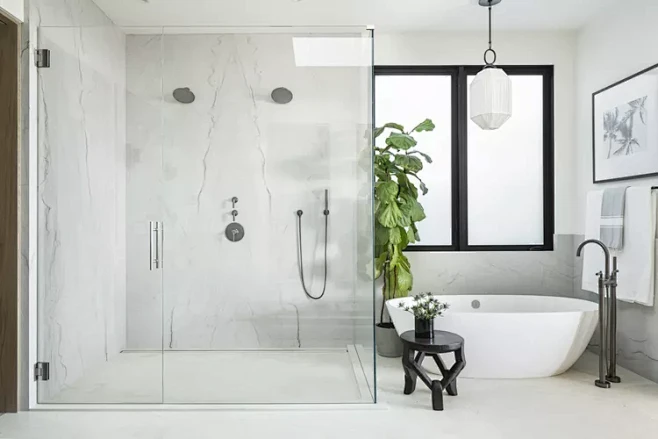 A minimalist bathroom can still incorporate art and decor without looking cluttered or overdone. A framed black-and-white photograph looks right at home in this spacious minimalist bathroom from Laura Brophy Interiors and helps it from feeling too austere.
34. Add Balinese Vibes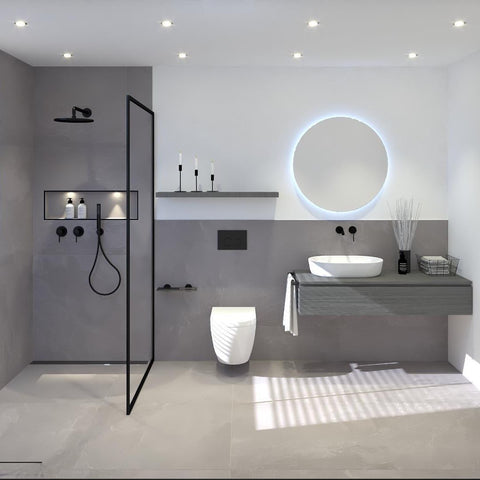 The Home Consultant created a minimalist Balinese-inspired guest bathroom with plenty of warmth using a custom white oak vanity, wood-frame mirrors, woven pendants, and honed travertine flooring that is carried up onto the back wall of the double shower and is balanced with wood-effect tile on the floors and side shower walls.
35. Embrace Japandi Style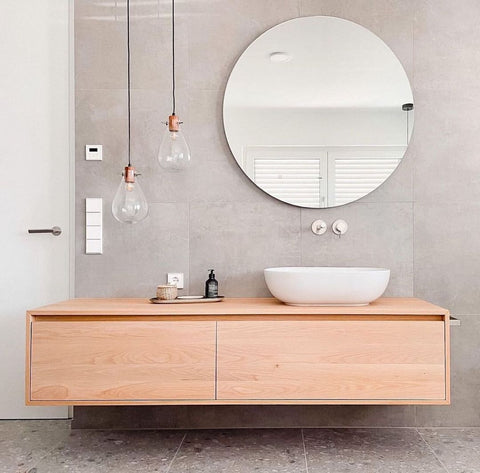 Cathie Hong Interiors remodeled a midcentury model Eichler home in Willow Glen, California, infusing it with Japandi elements for a minimalist feel. Stealing some space from the primary bedroom allowed for the creation of an en suite bathroom with a curb-free wet room complete with a soaking tub and Japanese tiles.
Leave a comment