MOONMIRROR® Pill Shaped Full Length Mirrors Wall Mounted/ Leaning
Shipping calculated at checkout.
Product information
Brand:

 MOON MIRROR

Type:

 Bedding Room, Living Room, Wall Mirrors, Bathroom

Shape:

 Pill Shaped

Framed Material: SUS 304 Stainless Steel
Backboard Material:

 

9mm TSCA-certified MDF Backboard
Mirror Material:

 

4mm HD GLASS
Frame Thickness:

 

1 inch
Mounted Way:

4 

D-ring Wall Mounted/Leaning on wall
Finish Types:  Brushed Nickel, Matte Black, Brushed Gold
Details You'll Appreciate
Contemporary Elegance and Timeless Design
Our pill-shaped full length mirrors sets itself apart with a sleek and slim stainless steel frame, providing a modern twist to the traditional full-length mirror. Choose from three stunning finishes, including Matte Black, Brushed Nickel, and Brushed Gold, to match your decor effortlessly.
With its smooth, flat edge and gently curved corners, this mirror exudes a timeless charm that complements a variety of decor styles. The subtle convex sides add an element of sophistication, enhancing the ambiance of any room.
The ANDY STAR Full Body Mirror is crafted from top-notch materials, including a 304 stainless steel frame, 4mm HD glass for unmatched clarity, and a sturdy 9mm TSCA-certified MDF backboard. The stainless steel frame is not only corrosion-free and rustproof but also resistant to scratches, ensuring its longevity.
Equipped with a reinforced D-ring on the back, this full length mirror can be effortlessly hung on your wall or leaned against it. Its flexibility allows you to adapt it to your space, adding both style and functionality.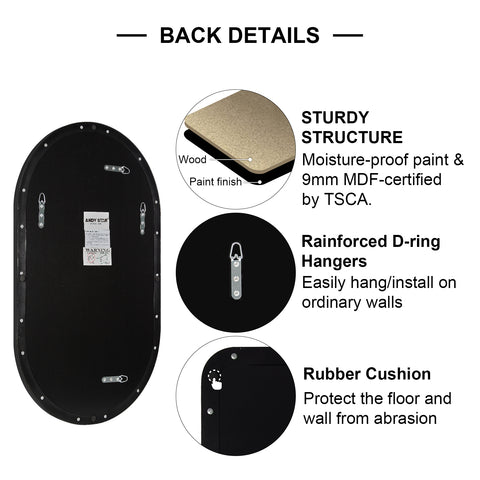 Whether you want to brighten up your hallway, elevate your bedroom, or add flair to your bathroom, this pill-shaped full-length mirror is designed for both decorative and practical use.
MOON MIRROR is dedicated to customer satisfaction. We offer a 30-day return policy and provide fast, free shipping with secure packaging. Trust in our quality and enjoy the stylish versatility of this full-length mirror in your home.