MOONMIRROR
MOON MIRROR | Illuminated LED Moon Wall Lamp Moon Night Light for Wall
Shipping calculated at checkout.
Product Specification
Brands:

 MOON MIRROR

Type:

 

Wall Mirrors
Shape:

 Circle/Round

Framed Material: Metal Framed
Backboard Material:

 

9mm TSCA-certified MDF Backboard
Mirror Material:

 

4mm HD GLASS
Frame Thickness:

 2

 inch
Mounted Way:  D-ring Wall Mounted
Size: 20 inch, 24 inch, 30 inch
Moon Mirror: Transform Your Space with a Magical Moonlit Glow
Discover the extraordinary Moon Mirror, a revolutionary home decor piece that seamlessly transitions between a stylish round mirror during the day and a captivating illuminated moon at night. With its innovative design and enchanting glow, this mirror is a must-have for those seeking a touch of celestial elegance in their living space.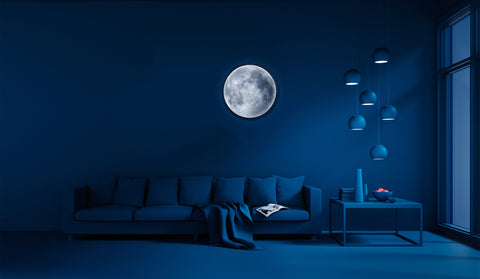 A Genius Invention and Design>>>
Don't let your mirror be just another wall ornament during daylight hours. Our Moon Mirror, from the INTO Mirrors collection, transforms into a breathtaking illuminated moon, creating a mesmerizing ambiance in any room.
Mirror by Day, Moon by Night>>>
Imagine gazing upon a lifelike, emulated moon that reflects beyond your home at night. This creative mirror effortlessly transitions into a luminous, dreamy moon, adding a touch of celestial beauty to your living room, bedroom, reading room, and more.
Soft Glow for Serene Nights>>>
Hang this extraordinary piece in any room without worrying about distractions or sleep disturbances. The Moon Mirror features a built-in LED light source that emits the perfect amount of soft, ambient light, providing a serene atmosphere throughout the night. Its brightness is carefully calibrated to be both captivating and gentle, ensuring a peaceful night's sleep.
A Perfect Present for Any Occasion>>>
Searching for a unique gift? Look no further. The Moon Mirror is an ideal choice for family, friends, and loved ones. This stunning home decor product will surprise and delight you, making it the perfect addition to birthdays, parties, and celebrations. Show your affection by gifting a moon, a symbol of romance and wonder.
Enhance Early Education for Children>>>
Stimulate your child's imagination and understanding of the world with the Moon Mirror. Its true-to-life reflection encourages creativity and curiosity, making learning an immersive experience. Let your little ones feel like they own the moon, providing them with a comforting companion at night.
Clear Mirror with Exceptional Craftsmanship>>>
Crafted with precision, the Moon Mirror features a 4mm polished mirror surface that delivers a crystal-clear reflection. The 3mm thick TSCA-certified anti-corrosion backboard ensures safety and distortion-free viewing. The slim metal frame allows the glowing moon to be displayed in its entirety, evoking the illusion of hanging a real moon in the dark. Choose from three sizes: 20 inches, 24 inches, and 30 inches, all available at the same price as ordinary round mirrors.

Safe and Easy Installation>>>
Your safety is our priority. The Moon Mirror is designed with a safety backing that strengthens the glass surface, minimizing the risk of breakage. The mirror comes securely packed in a robust carton, and the pre-installed anti-rust D-ring hanging clips make installation a breeze. Additionally, the mirror is equipped with UL-certified adapters and LED lights for safe, long-lasting use.
What's most people experience with us?
Product Advisories:
To prolong the product's lifespan, it is recommended to turn off the power supply every few hours to prevent overheating.
To activate the moon image, simply plug in the power and press the switch button. Without activation, the mirror appears as an ordinary mirror to the naked eye.
For optimal visual experience, switch to LED mode at night or install the mirror in a dark area, as the moon image may be less noticeable in bright light.
Please note that there may be a slight difference in image display due to variations in ambient