Product information
Brands:

 MOON MIRROR

Type:

 Full Size Mirrors for 

Bathroom, Bedding Room, Living Room

Shape:

  Oblong Mirrors

Framed Material: SUS 304 Stainless Steel
Backboard Material:

 

9mm TSCA-certified MDF Backboard
Mirror Material:

 

4mm HD GLASS
Frame Thickness:

 

1 inch
Mounted Way: 

D-ring Mounted for both Horizontal & Vertical
More Product Details
Elevate your living space with the MOON MIRROR Oblong Full-Length Mirror, a perfect blend of modern design and superior craftsmanship. This elegant mirror is a stylish and functional addition to your bathroom, bedroom, living room, or entryway, bringing a touch of sophistication and space-enhancing brightness.

Details You'll Appreciate
This oblong mirror is a departure from the ordinary, with a slim, modern-inspired stainless steel frame that sets it apart from traditional oval or rectangular mirrors. The mirror features a flat edge for a sleek, clean appearance. Its rectangular shape is softened by rounded corners and slightly convex sides, adding a touch of elegance to any room.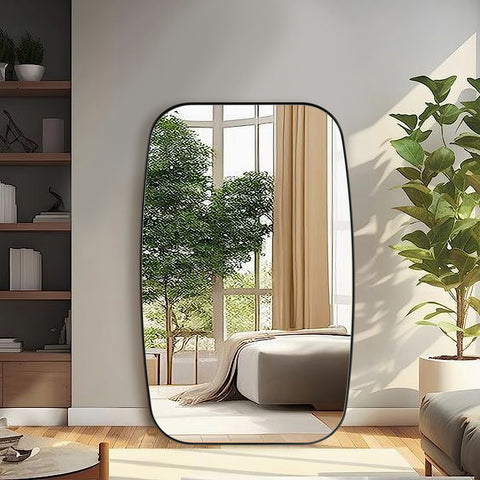 Matte black finish is a trendy choice that effortlessly complements your bathroom, entryway, living room, or bedroom while adding a sense of light and space to your room.
Crafted with a heavy-duty 304 stainless steel frame, 4mm HD glass, and a 9mm TSCA-certified MDF backboard, this mirror is designed to last. The stainless steel frame is not only sturdy but also resistant to scratches, corrosion, and rust, making it an ideal choice for your bathroom.
Whether you place it in the hallway, bedroom, entry, vanity, powder room, or bathroom, this oblong mirror is suitable for a variety of spaces, serving both decorative and functional purposes.
Equipped with a reinforced D-ring on the back, this mirror can be effortlessly hung on your wall or leaned against it. Its flexibility allows you to adapt it to your space, adding both style and functionality.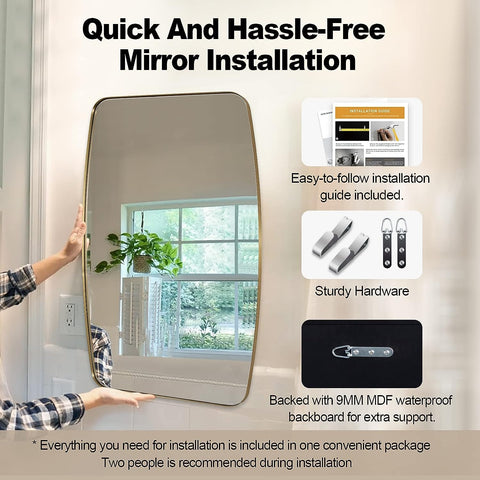 x