Product information
Brands:

  MOON MIRROR

Type:

 

Wall Mirrors, 

Bathroom, Bedding Room, Living Room

Shape:

  Scalloped Rectangle

Framed Material: SUS 304 Stainless Steel
Backboard Material:

 

9mm TSCA-certified MDF Backboard
Mirror Material:

 

4mm HD GLASS
Frame Thickness:

 

1 inch
Mounted Way: 

D-ring Mounted for Vertical
Finish Type:  Brushed Gold
Item Weight: 24"x24" - 18.1 lbs; 22"x 30" - 20.6 lbs; 24"x36" - 25.8 lbs; 
More Product Details
 This accent Scalloped Rectangle Mirror features a classic frame and decorative edges for a mixture of modern and contemporary styles. The ornate angles and cutouts of its design give this mirror a traditionally romantic look. The overall shape gives it an antique-like appearance that will complement most home decor. The Mirror patches also add a retro touch to the front mirrors. This unique gold rectangle mirror would provide the perfect way to add a luxurious touch to any wall in your bathroom.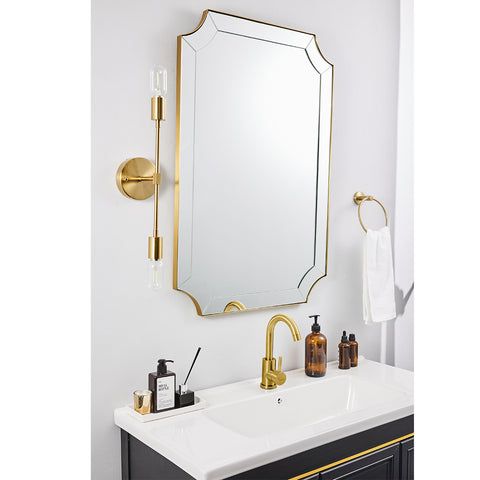 Feature Design:
Premium Quality Material- 4mm polished glass+ 1 inch Stainless Metal Frame+9mm MDF firm Backboard;
Finely Crafted-Special glass floating in the frame with a 1/12" gap;
Pre-installed D-ring hanging clips for easy to install;
Drywall hooks and screws included;
The concave Angle highlights the curvature of the eyes, and the specular patch adds a retro flavor.
Subverting the shape of the traditional bathroom mirror, it is both aesthetic and practical. This Scalloped Rectangle Mirror is rated for damp and dry locations, so hang it in your bathroom, bedroom, or entryway — wherever you need to have a glance at your reflection before heading out the door. 
About the Colors